Freeriding
in Davos Klosters
Powder, powder, and even more powder! Off-piste fun takes on an entirely new meaning in Davos Klosters Mountains. High-alpine terrain with guaranteed snow – that means plenty of freeride action! It is no surprise that Davos Klosters has been a popular hotspot for freeriders and ski tourers for years. The Swiss winter destination boasts a wide range of offers with many options on various mountains. What's more, holidaymakers also have the option of taking part in training courses, guided tours, and attractive community events. In Davos Klosters, freeriders feel right at home, and there are amazing routes for every level of skill.
Less experienced guests, who want to discover their passion for powder snow step by step, can take part in various training courses in Davos Klosters Mountains. Whether it's avalanche awareness training, open terrain training for independent practice, or guided tours with professional mountain guides: The choice is yours!
Information for every freerider
Endless freeriding
Safety and the necessary skills are important concerns when it comes to freeride skiing and snowboarding! That's why appropriate training is an absolute must. We have summarized the most valuable tips for you: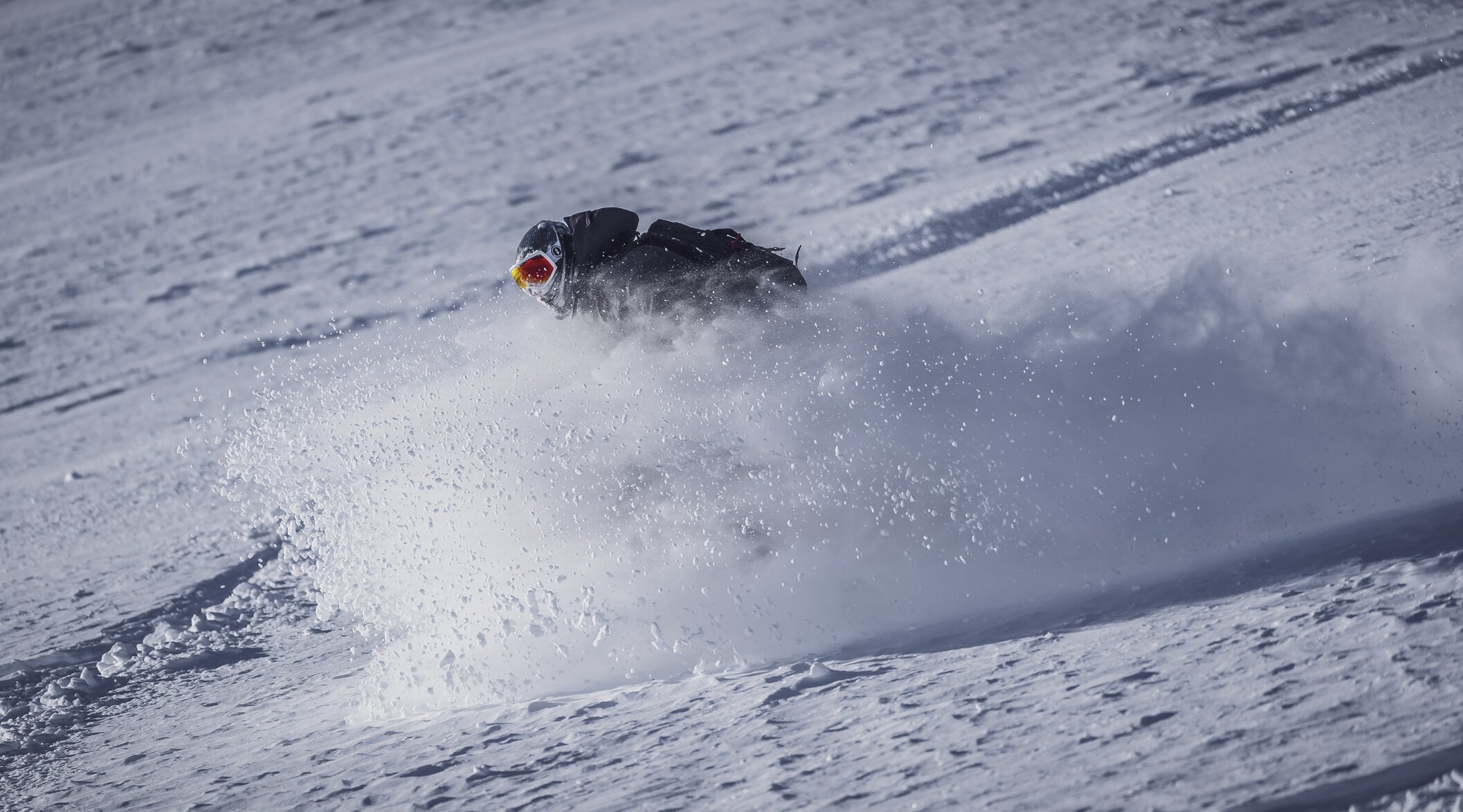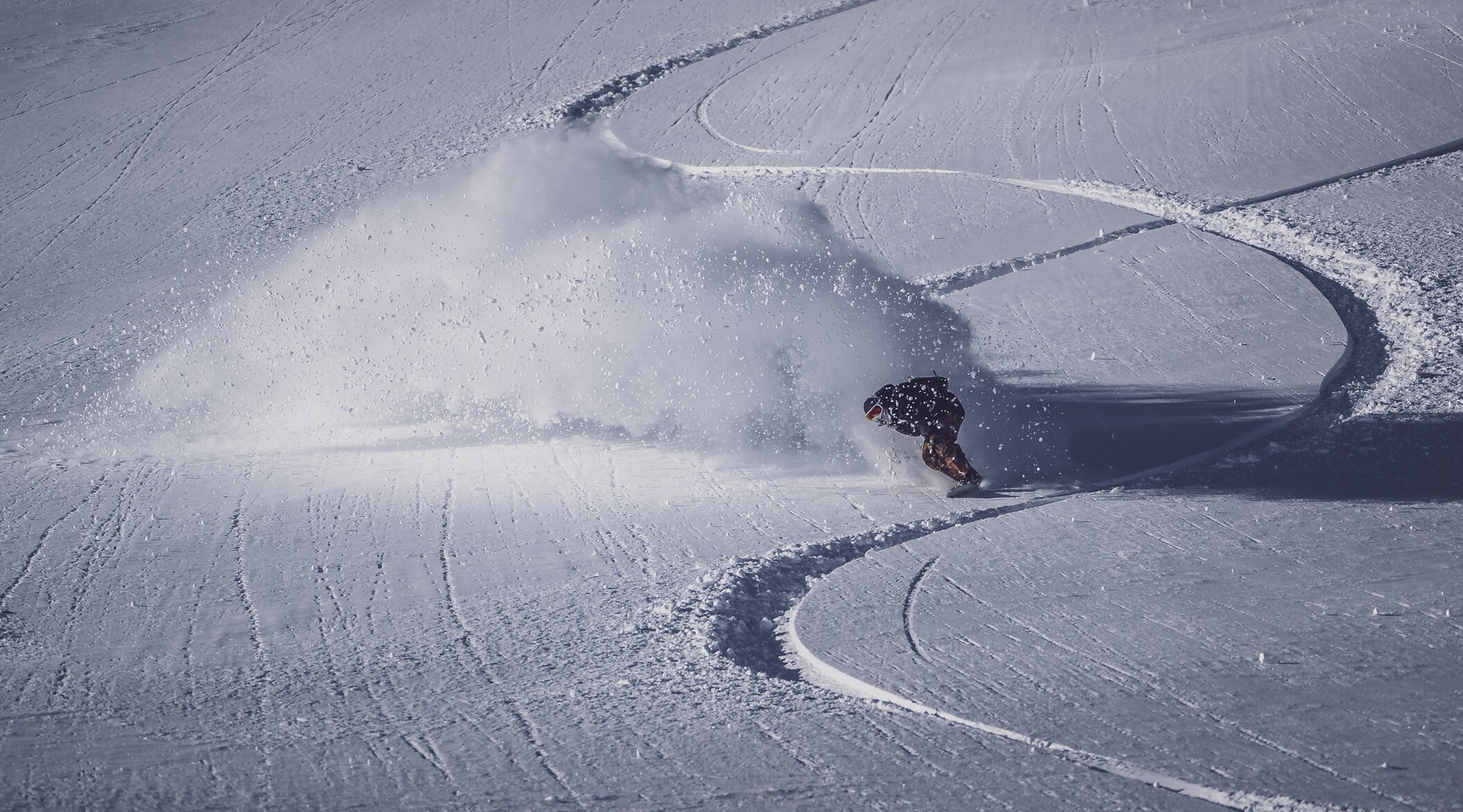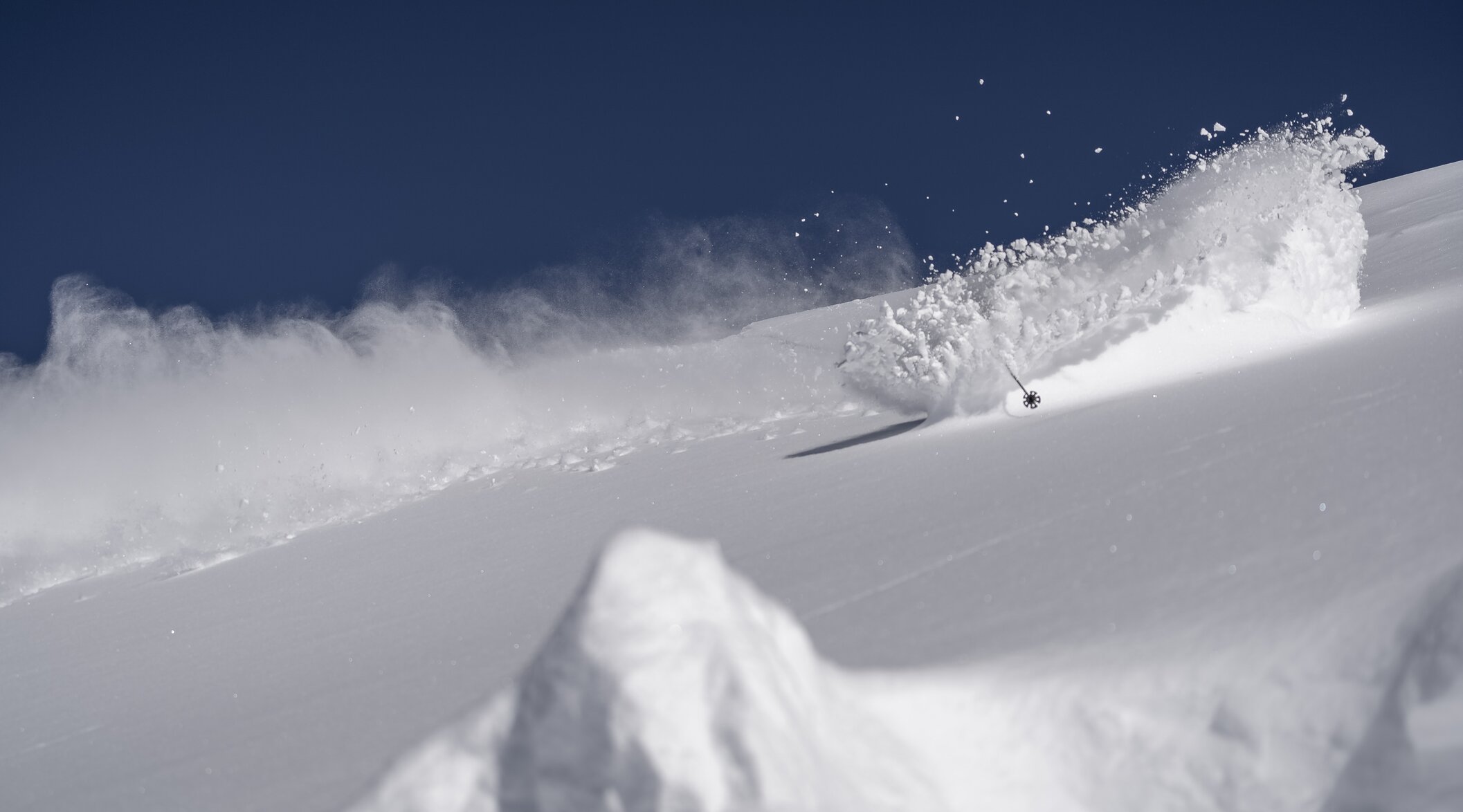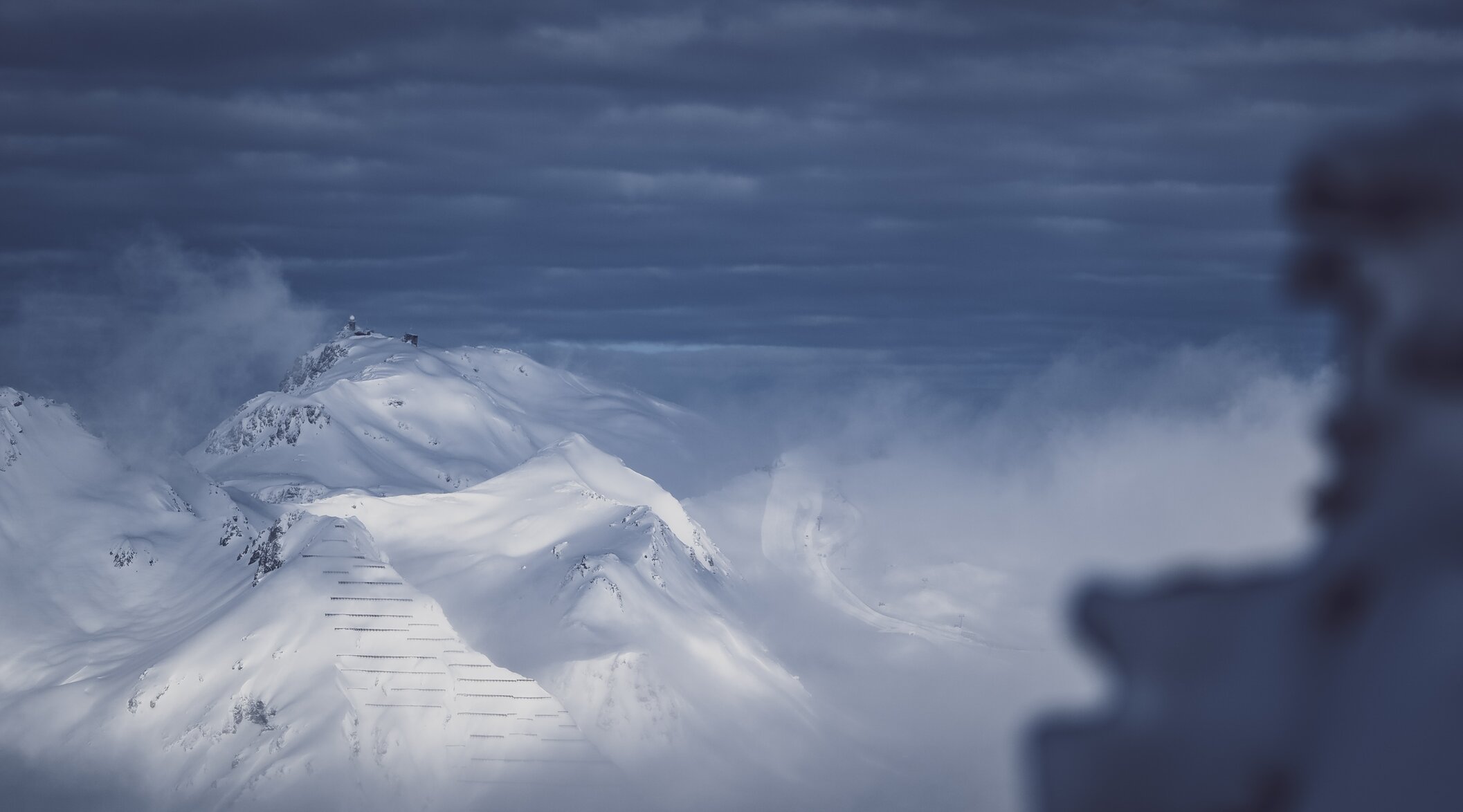 3-Bahnentour
3 top-regions
A unique and exceptional highlight, which connects three of the Canton of Grisons' top regions: The 3-Bahnentour gives freeride skiers and snowboarders access to a daily programme that could not be more spectacular.
The start of the tour is either in Davos, Klosters, Arosa, Tschiertschen or in Lenzerheide. What's really cool about it: No matter where you start, the route remains the same. If the snow and weather conditions allow it, a breathtaking day tour with pure powder fun awaits you.
Stage 1: Davos Klosters – Langwies

Stage 2: Langwies – Arosa – Tschiertschen

Stage 3: Tschiertschen – Parpan – Lenzerheide
Good to know: The mountain guides from the agency Bergführer of Davos Klosters are happy to accompany you on this tour every Monday – as part of a guided day tour. Experience the freeride highlights in a small group and let the local guide show you the real hotspots!
Funi Line
all freeride mountains
The Funi Line combines the most beautiful yellow signposted routes into a one-day experience. On this line, you can explore various secured routes on the different mountains of Davos Klosters on a day tour. Alternatively, you can pick the most beautiful descents and spread the experience out over the course of several days.
In simple terms: The Funi Line – its name comes from the word "funicular"– promises a lot of downhill fun without any major ascents. It's all about having fun in fresh powder snow. You won't have to do the same route twice, and you'll discover the most beautiful routes of the region in an unforgettable way. What are you waiting for? Time for a powder snow adventure!
Freeride Learnline
Jakobshorn
The new Freeride learnline on Jakobshorn is a unique offer for all those who have less experience with skiing in deep snow or who want to expand their knowledge. The signboards were developed by the University of Education in Lucerne and aim to promote more details about freeriding.
On the marked freeride route from the Jakobshorn summit to Teufi you will learn more about avalanches, correct preparation and assessment, how to behave in the terrain and much more. The yellow marked route no. 14 should anly be used in open and secured status. This way you can consciously concentrate on learning.
Good to know: You need a mobile phone and network access to read the QR-codes on the panels.
At the ski resorts of Davos Klosters Mountains, there are numerous yellow downhill routes which, when open, are great locations to enjoy a safe descent. A unique experience for guests without local knowledge and freeriders whose main focus is on having shared winter sports adventures!
On Jakobshorn: Two exciting routes lead you from the summit into the picturesque side valleys. On the Mühli or Teufi downhill run, you can reach the side valleys of Sertig or Dischma via beautiful powder snow descents. When ski routes are open, follow the markings of routes number 13 for Mühli and number 14 for the Teufi run! From the side valleys you can comfortably get back to Davos by bus. (Don't forget to buy a bus ticket for the side valleys!)
On Pischa: From the mountain station, numerous off-piste runs lead you down into the valley. The local recreational area of Davos does not have any groomed slopes, which makes it perfect for all freeride beginners. The two routes – number 6 and number 7 – let you enjoy a safe descent into the valley full of powder snow fun.
On Rinerhorn: The insider's tip among locals boasts beautiful powder runs down to the valley – even and especially on snowy days. Along the valley run, you will find several great runs no matter the visibility conditions. When there is fresh snow, the pristine runs along the signposted routes number 9b or number 4b are particularly worthwhile.
Freeride map
Are you looking for a suitable freeride route? Here you will find all possible secured descents at a glance.
Have fun discovering them!
Overview of the Freeride routes
Fresh powder lines are more important than having the fanciest possible accommodation – that's your motto, too? Then you are guaranteed to find the right offer for your stay at the Mountain Hotels. How about spending the night up in the mountains? This way, your freeride experience starts right after breakfast. You can shred down the slopes first thing in the morning – it hardly gets more perfect! For those who like it a bit more comfortable: Several Mountain Hotels offer a freeride package, including multi-star hotel and freeride guides.
Good to know
What you should know...
Ski slope map
Take a look at the interactive slope map in advance. The yellow routes are marked and can be skied when open (piste report). In addition, you should only go off-piste with sufficient experience and the appropriate equipment.
Avalanche bulletin
Before a tour or a day on the mountain, we recommend you take a look at the avalanche bulletin and the snow report. Good preparation is always a must!
Wildlife protection zones
When riding off-piste, you endanger wildlife. Informing yourself about the wildlife protection zones is therefore part of the basic preparation of every freerider. Please pay attention to the wildlife protection zones!