Family holidays
im Winter
Are you ready for a picture-book winter excursion with your family? Taking the cable car up the mountain, swooshing down wide slopes – snow-covered summits wherever you look – and great practice areas where kids can learn how to ski … Or how about sledging or snowshoeing in the Grison mountains while spending quality time as a family? The choice is yours in Davos Klosters Mountains.
The ski resorts of Davos Klosters Mountains and families – those two go together like cookies and cream! On sunny slopes surrounded by stunning scenic views, little and grown-up winter sports enthusiasts can swoosh down the mountain and fuel up for new adventures at cosy Alpine huts. That's holiday joy at its best – for tiny snow bunnies and seasoned skiers!
Davos Klosters in winter
Is perfect for families because …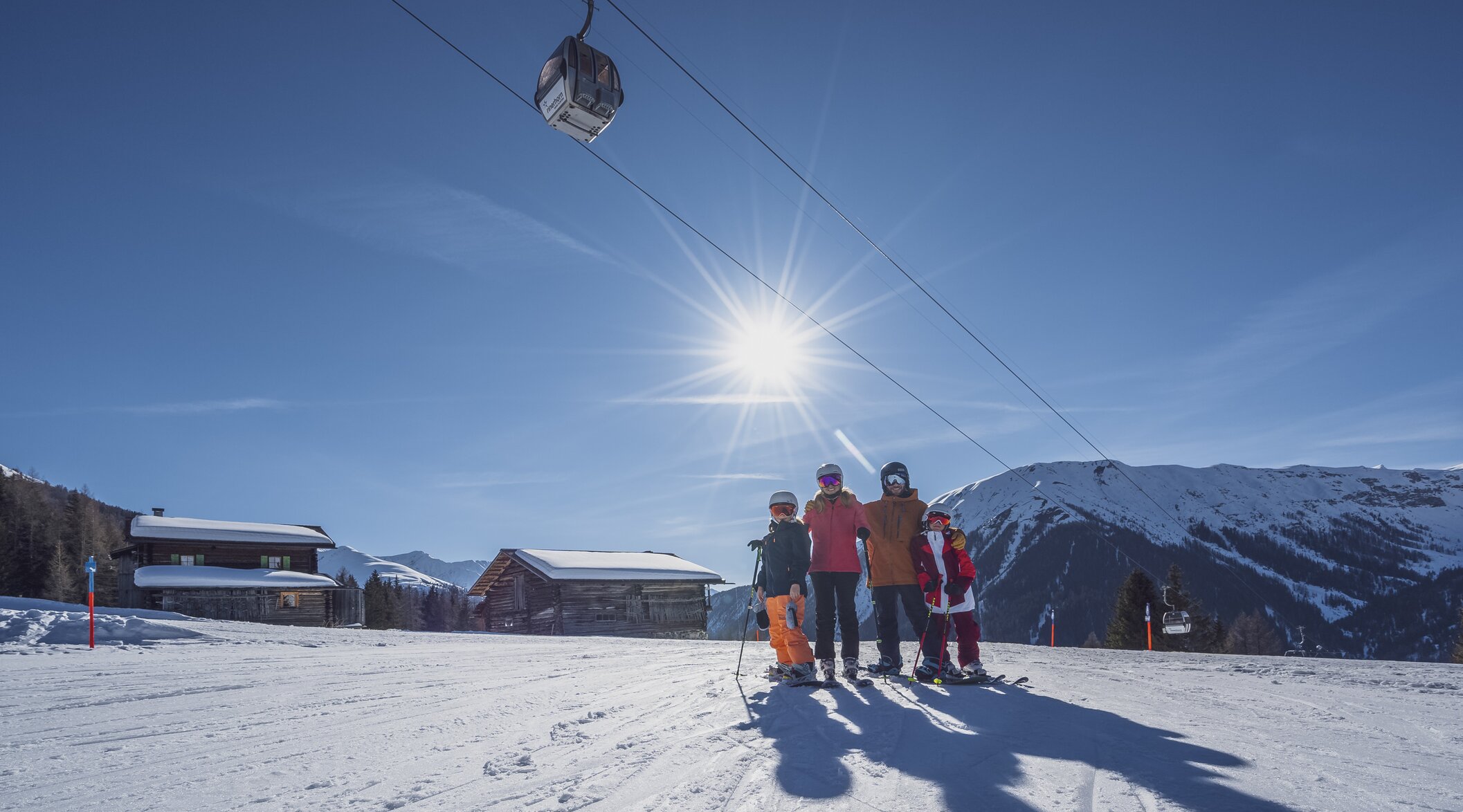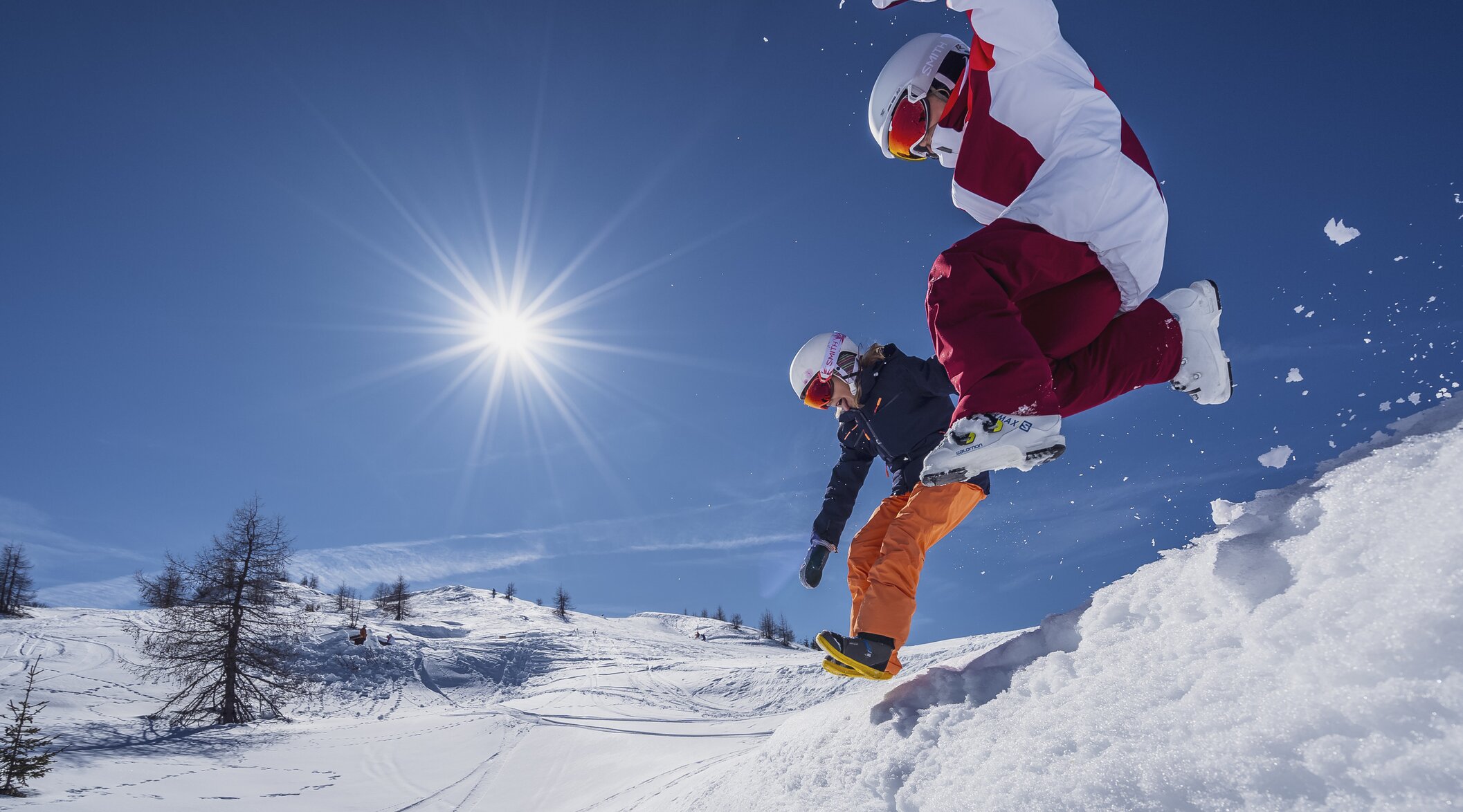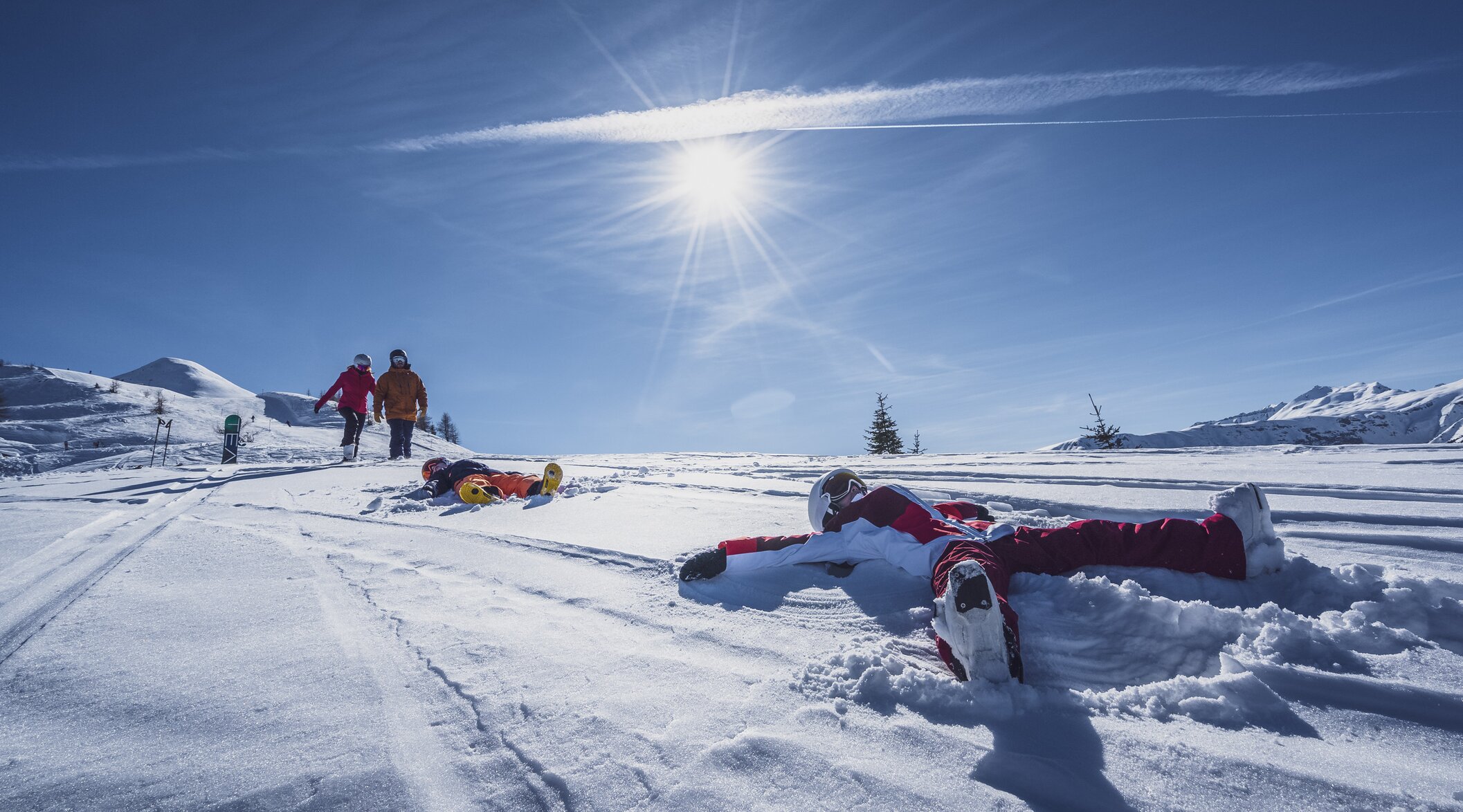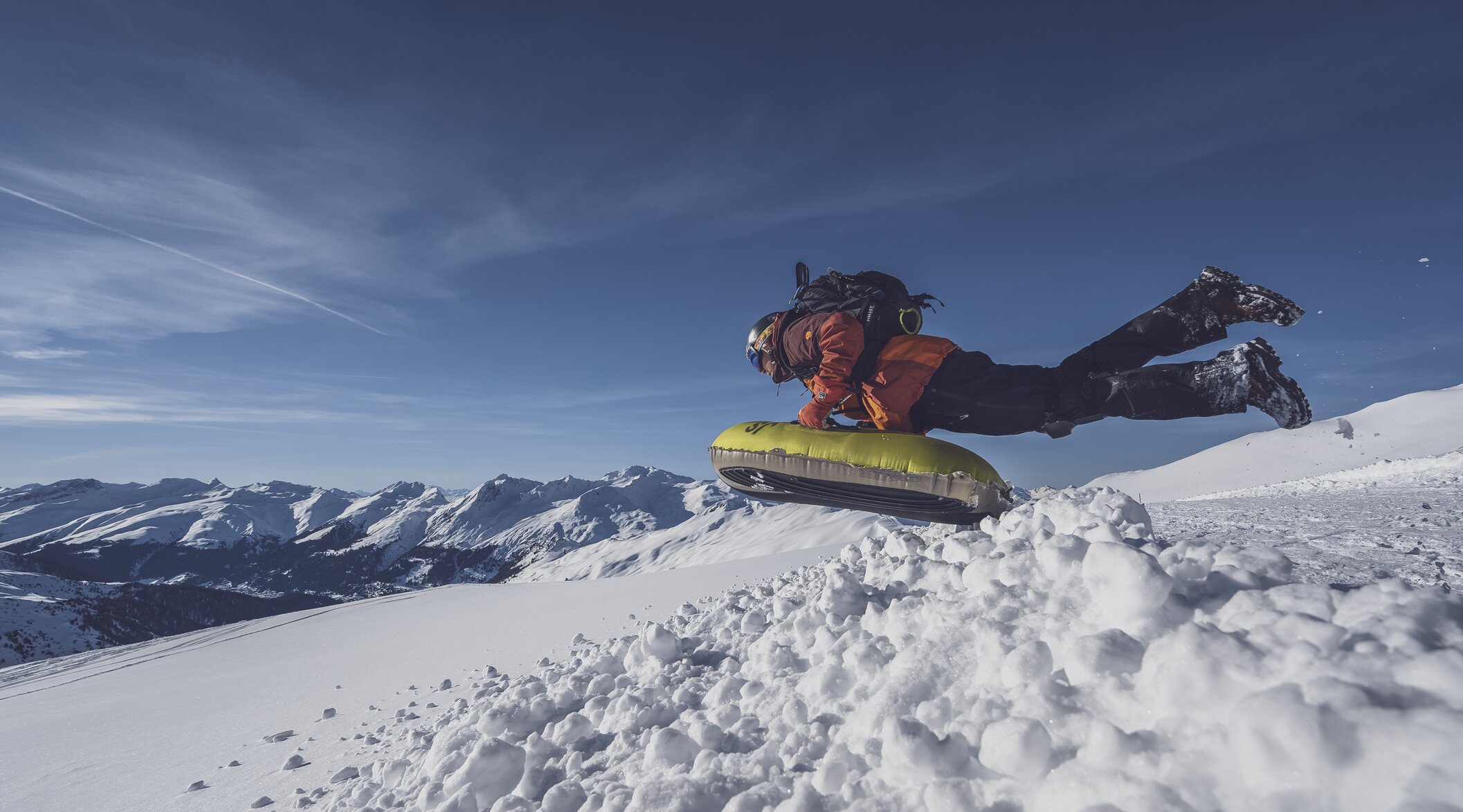 Davos Klosters is in summer
Perfect for families because ...
Summer activities
For the whole family
Davos Klosters and its surrounding mountains are a summer paradise for families. Pleasant temperatures in the valley and in the mountains, and countless leisure activities to choose from: No wonder guests enjoy their holidays here so much! Whether you prefer relaxing moments in nature or action-fuelled activities in the mountains: You're bound to find something just after your taste.
For young adventurers
The new Technique Trail on Jakobshorn is popular with adults and youths. It boasts the perfect terrain for finetuning your technique on the bike and for showing off your skills.
Speedy rides through the mountains
A ride through the mountains with a kick scooter is a fun alternative to hiking. Instead of walking at a slow and steady pace, you can dash down Rinerhorn along a 4.5-kilometre scootering route.
On first-name terms with the animals
They're fluffy or scruffy, definitely cute, and they make children smile from ear to ear: At the Alpine petting zoo on Rinerhorn at 2,000 metres above sea level, animal lovers will hardly be able to contain their excitement.
Putt like the pros!
Take a club, a ball, and decent aiming skills – and what you get is a fun round of minigolf for the whole family. At the minigolf facilities at Hotel Waldhuus, you can show off your putting skills – and maybe you'll even make a hole-in-one!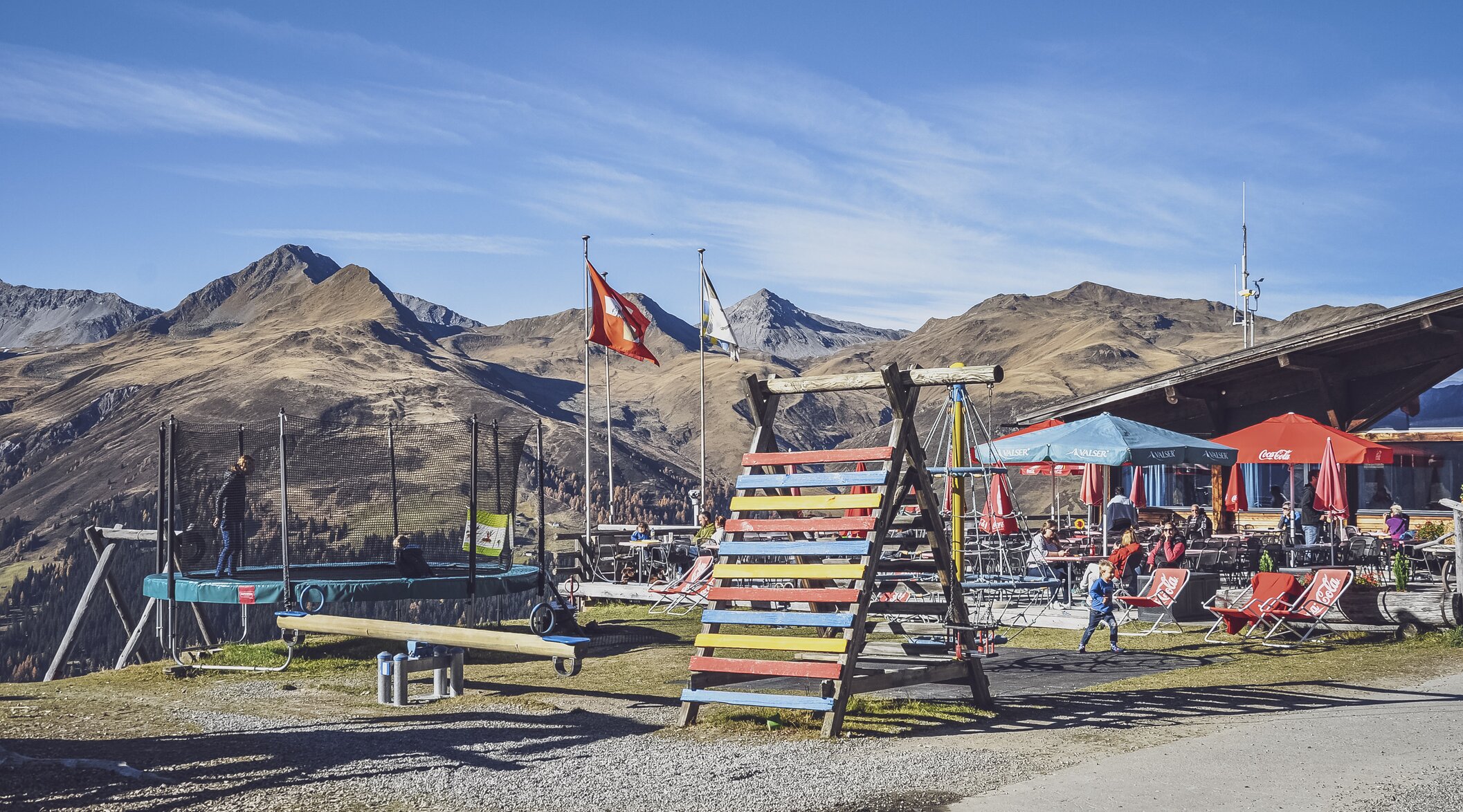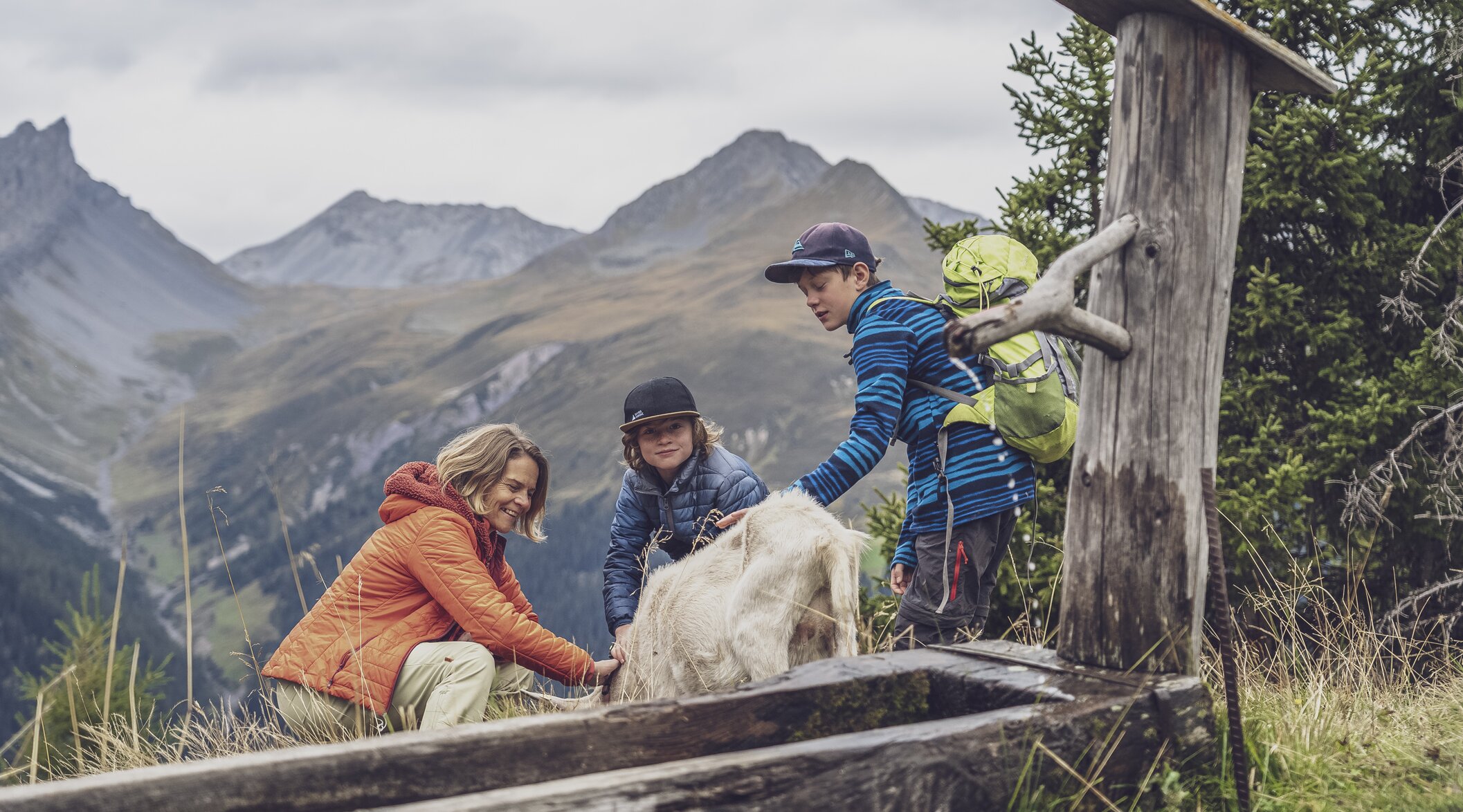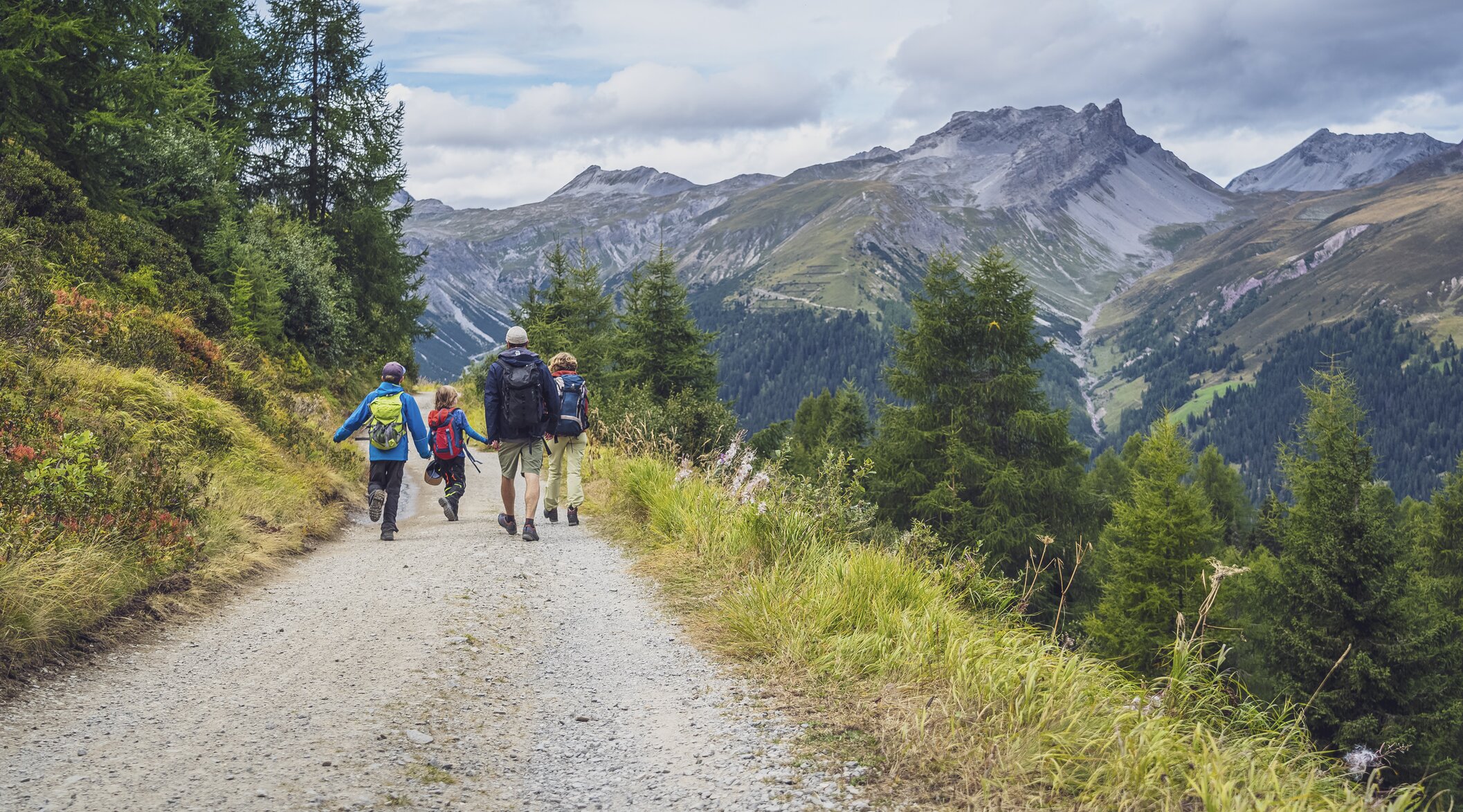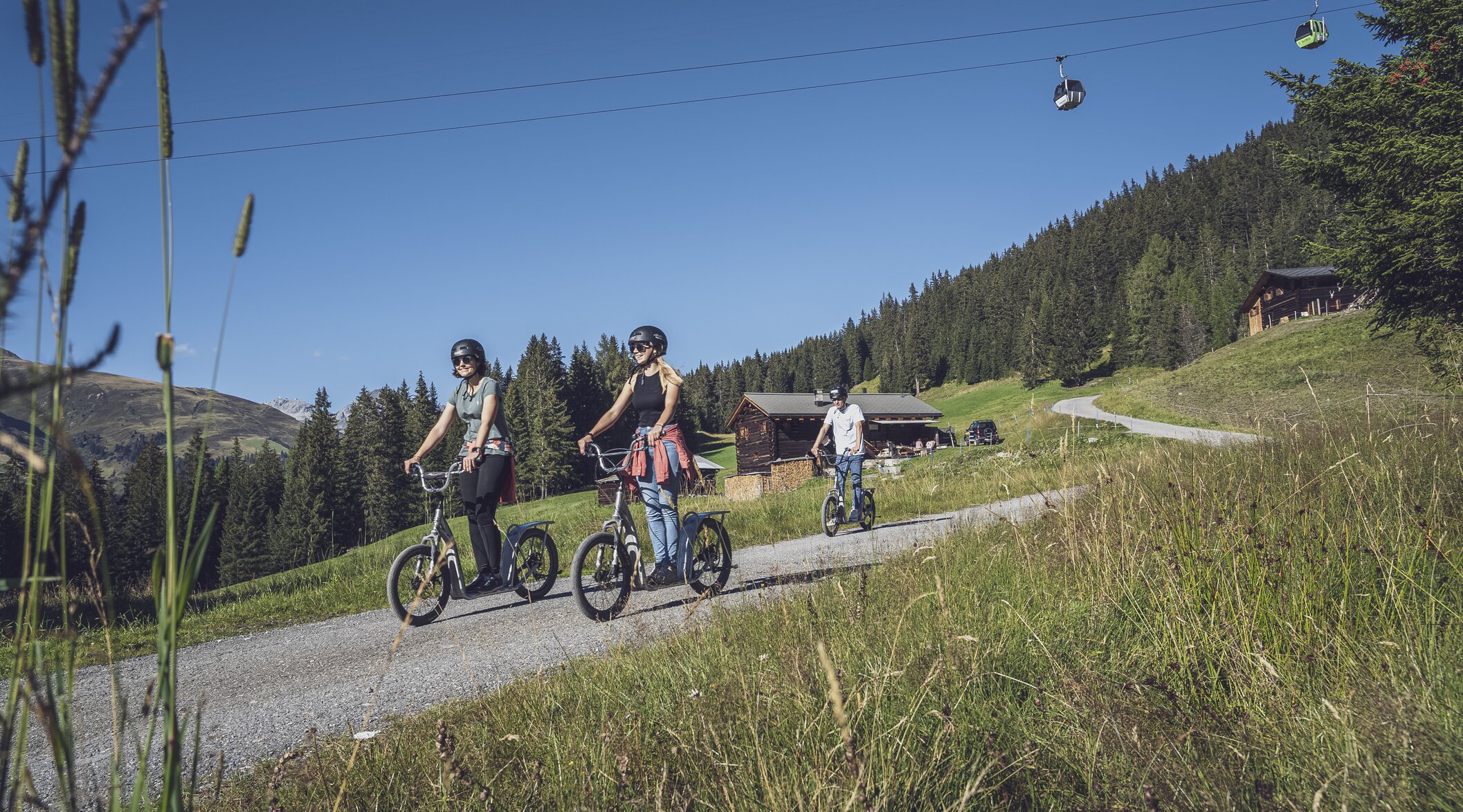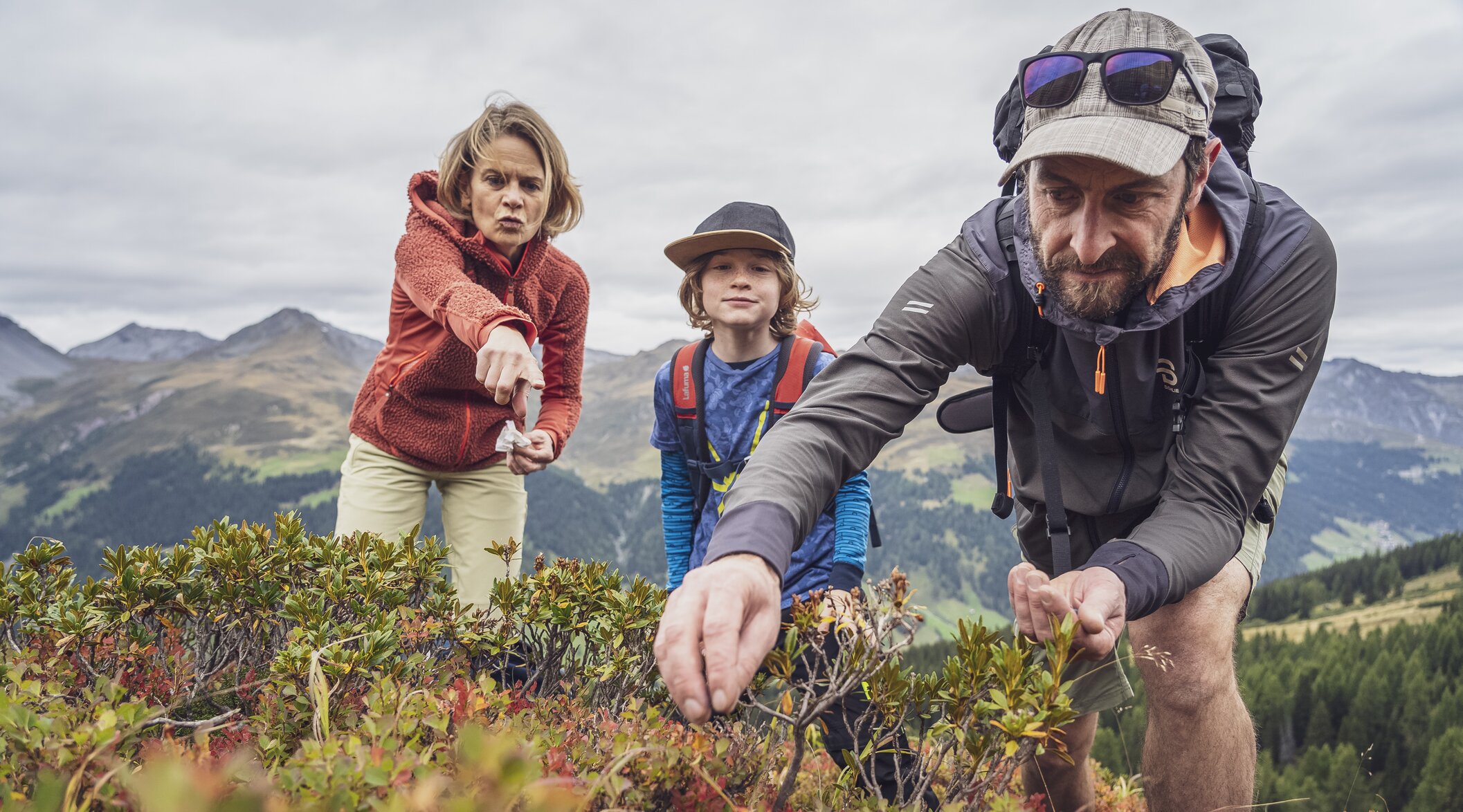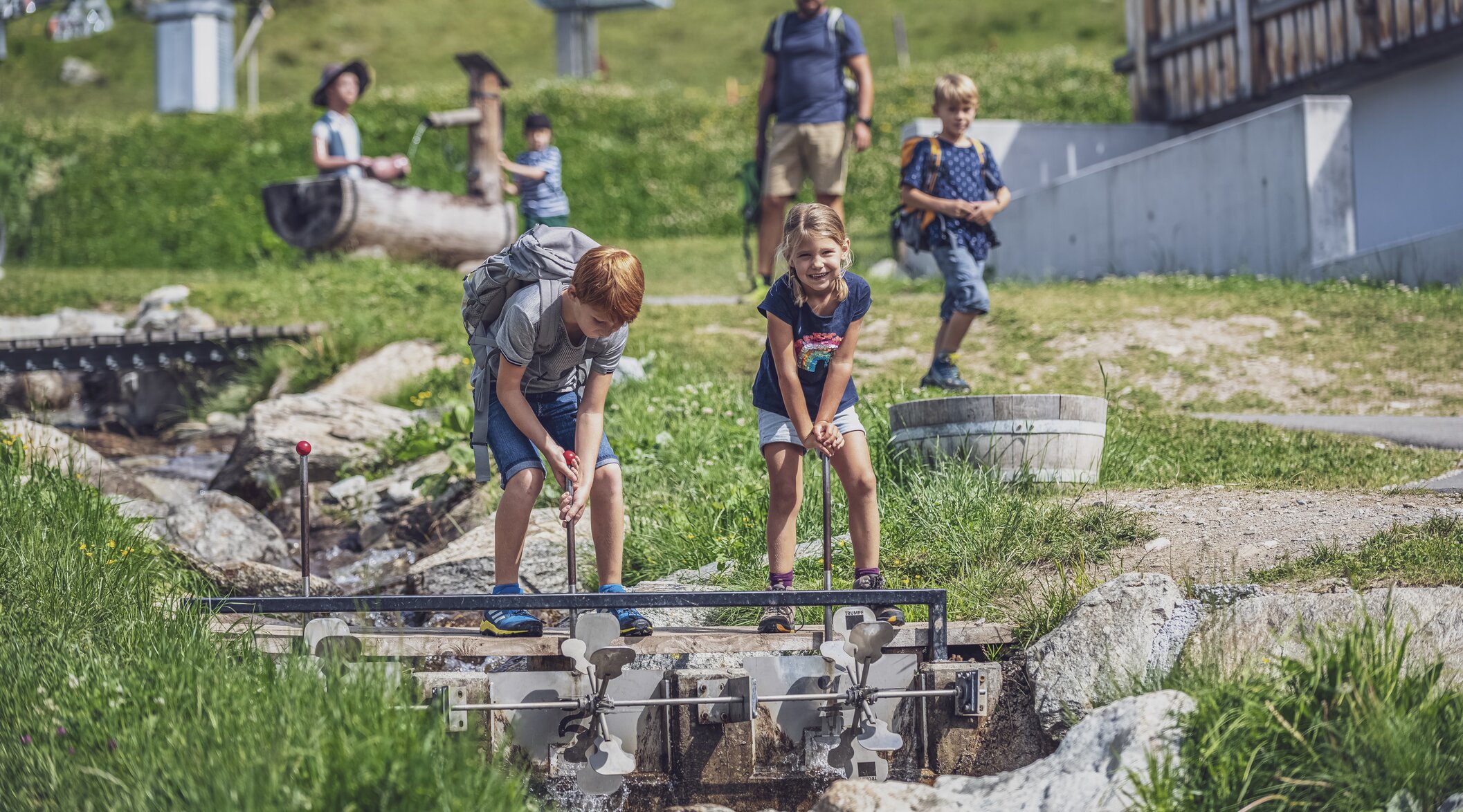 The most beautiful family hiking routes
At a glance
Family hikes in Davos Klosters are a great summer activity! Four mountains ensure boredom won't stand a chance in summer. Numerous beautiful signposted trails – many of which are suitable for baby buggies and prams – meander through the mountains of the region.
Lake Stadlersee on Jakobshorn at 2,519 metres above sea level is great for families. How come? It only takes you about 30 to 40 minutes to get there from the Jakobshorn mountain station. That makes it a leisurely tour even kids can enjoy – and the trail is suitable for baby buggies and prams, too.
Tip: The picnic area with its barbecue spot is a wonderful location for lunch breaks.
Just hop into the cable car and exit at the Jakobshorn intermediate station! The family-friendly tour through Matta Forest will lead you either to Davos or to the Clavadel Show Dairy – an easy hike that takes ambitious little hikers about 1.5 hours.
Tip: At the Show Dairy, you can learn about cheesemaking throughout peak season.
Lush green, blooming Alpine meadows and breathtaking views of the valley: The family-friendly route on Äbirügg is an insider's tip for hot summer days, and the barbecue location along the trail is an absolute highlight for families. Pack your favourite foods and take the cable car onto Rinerhorn!
Accommodations
for families
The family-friendly Mountain Hotels and Resorts offer everything you wish for while on family holiday: fun with your loved ones and spending quality time together in a cosy setting that makes you feel right at home.
Self-catering families will enjoy the stylishly furnished holiday apartments of Parsenn Resort. Those who prefer a hotel stay can kick back at the charming and cosy Hotel Waldhuus. Alongside an indoor pool and the Globi Kids Club, the hotel also has a playground and minigolf course for even more fun on holiday. Another cosy location for little and grown-up holiday guests is Hotel Strela in Davos Klosters. The three-star hotel offers a range of special amenities for families.